Two paths, one place: The ties that bind Branford Marsalis and Harry Connick Jr.
Publication: USA Weekend [1]
Author: Elyssa Gardner
Date: March 22, 2012
For a video featuring Branford and Harry, please visit the USA Weekend website [1].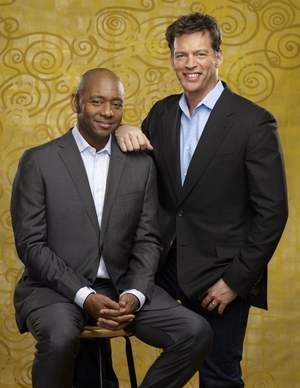 "Ready to go?" Branford Marsalis prods Harry Connick Jr., placing his hands on Connick's shoulders. The celebrated musicians and old friends are at a New York rehearsal hall for a photo shoot, but Connick can't pry himself away from the piano.
It's surely a familiar sight for Marsalis, 51, whose father, Ellis, gave Connick, 44, lessons more than four decades ago in their shared hometown, New Orleans.
Connick and Marsalis have remained close friends and collaborate on musical and philanthropic projects, such as supporting artists in their native city after Hurricane Katrina. Now, on Sunday's Finding Your Roots With Henry Louis Gates, Jr. on PBS, it is revealed that while their ancestors charted very different paths, the family trees were shaped by common historical events.
Both have European ancestors who landed in the South.
Marsalis' maternal great-great-great-grandfather, John Reinhart Learson, immigrated to New Orleans from Germany before the Civil War. The name Marsalis, however, actually was taken from his great-grandfather's stepfather.
"My actual great-great-grandfather was a man named Isaac Black," Marsalis notes.
Connick's great-great-grandfather arrived in Mobile, Ala., from Ireland and wound up a Confederate soldier in the Civil War. A bit shaken by that revelation, Connick discussed it with his buddy, who reassured him. "I said, 'Of course he was,'" Marsalis recalls. "'What else would he have done?' That doesn't have any bearing on how Harry and I are with one another. It was a different time."
Both men have long been interested in genealogy. "I think that playing the kind of music that Harry and I play, you almost have to be a historian," Marsalis says.
For Connick, the process "made me appreciate how well things have worked out. I mean, the fact that my mother was born in New York, a Jewish woman, and my father was born in Mobile, and somehow they ended up in New Orleans, with Branford's family. We're both lucky to have been born there."
branharry.jpg